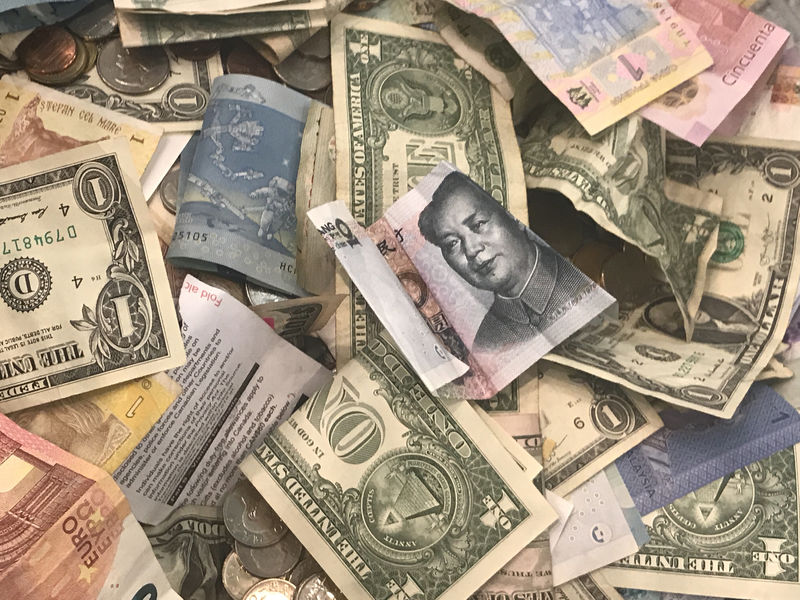 © Reuters. U.S. dollars and other world currencies lie in a charity receptacle at Pearson international airport in Toronto
By Richard Leong
NEW YORK (Reuters) – The dollar was weaker against the euro but rose against some emerging market currencies and hit a three-week high against the yen on Wednesday as investors braced for what is expected to be the Federal Reserve's second interest rate increase of 2018.
The euro gained ground on the greenback amid expectations that the European Central Bank on Thursday would signal its intention to taper its 2.55 trillion euro ($3 trillion) bond purchasing program later in 2018.
Some emerging market currencies weakened versus the dollar on the possibility of a Fed rate hike, while others rose. Countries like Turkey with large external financing needs are particularly vulnerable to rising dollar-funding costs.
The U.S. central bank is due to release its latest policy statement at 2 p.m. EDT (1800 GMT), followed by a press conference half an hour later by Fed Chairman Jerome Powell.
The Fed is expected to raise its benchmark overnight lending rate by a quarter of a percentage point to a range of 1.75 percent to 2.00 percent. Investors will scour the statement for clues as to whether the Fed will raise rates once or twice more in the second half of 2018.
"If they paint a picture of stronger inflation and growth, the market would take that as dollar-positive," said Richard Scalone, co-head of foreign exchange at TJM Brokerage in Chicago.
At 10:17 a.m. (1417 GMT), the dollar was flat at 110.39 yen after earlier hitting a three-week high at 110.71 yen.
The euro was up 0.25 percent at $1.1770 (EUR=) and was 0.36 percent stronger at 129.96 yen (EURJPY=).
Among emerging market currencies, the Turkish lira was down 1 percent at 4.646 lira per dollar, while South Africa's rand firmed 0.2 percent to 13.300 rand per dollar.
The British pound dipped to a one-week low of $1.3309 , unable to hold gains made on Tuesday when it briefly rose to $1.3424 after British Prime Minister Theresa May saw off a parliamentary rebellion over amendments to a bill for the country's exit from the European Union next year.
Slower-than-expected British inflation data on Wednesday also hurt the pound, as it weakened the case for a Bank of England rate rise in August.
The Canadian dollar, which has fallen heavily in recent weeks on concerns an escalating trade dispute with the United States would hit Canada's economy hard, rebounded nearly 0.2 percent to C$1.2992 , above what was nearly a three-month low of C$1.3068 set last week.
The Norwegian crown rallied for a second straight session against the dollar and the euro (EURNOK=), hitting its strongest level against the single currency since late October after an upbeat central bank survey raised expectations of tighter monetary policy.
sponsoredArticle = 'div-gpt-ad-1466339494851-0';